COMFORTABLE ACCOMMODATION IN THE CITY CENTER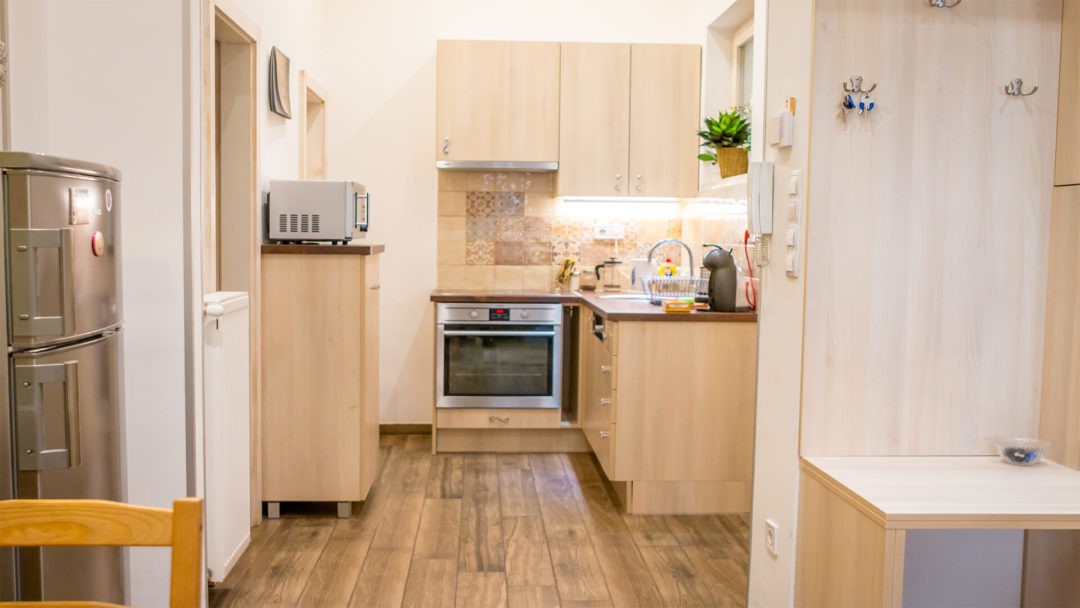 The apartment is located on the 3rd floor of Nádor street 23, in an old, Art Nouveau building. One of the apartments in the building was the first permanent residence of the famous composer, pianist, Frantz Liszt. Our accommodation is tastefully renovated with practical and modern furnishing.
The apartment is 48 m2, with excellent layout, a living- and dining room, two separate bedrooms, one bathroom. The kitchen is equipped with all utensils, the bathroom has a shower. A hairdryer is also at our guests'; disposal. In the separate laundry room, a new, modern washing machine is available for our guests. Free WIFI is provided at the property. All rooms have air conditioning. Our kitchen is equipped with the latest machines, dishwasher, ceramic hob, microwave and full dining set.
For toddlers we also provide a portable baby bed with bed linen and a baby bath tub. Maximum occupancy is 4 people. On request, a pull-out sofa in the living room can be used as an extra bed for a child up to 5 years old.
All our guests are provided with towels, extra pillows in different sizes, and if necessary, anti-allergens are also available. Do you want to go to one of the famous Budapest thermal baths? You don't have to bring your own bath towel, we also give one for free. We are a phone call away during your stay, in case you have any problems or requests.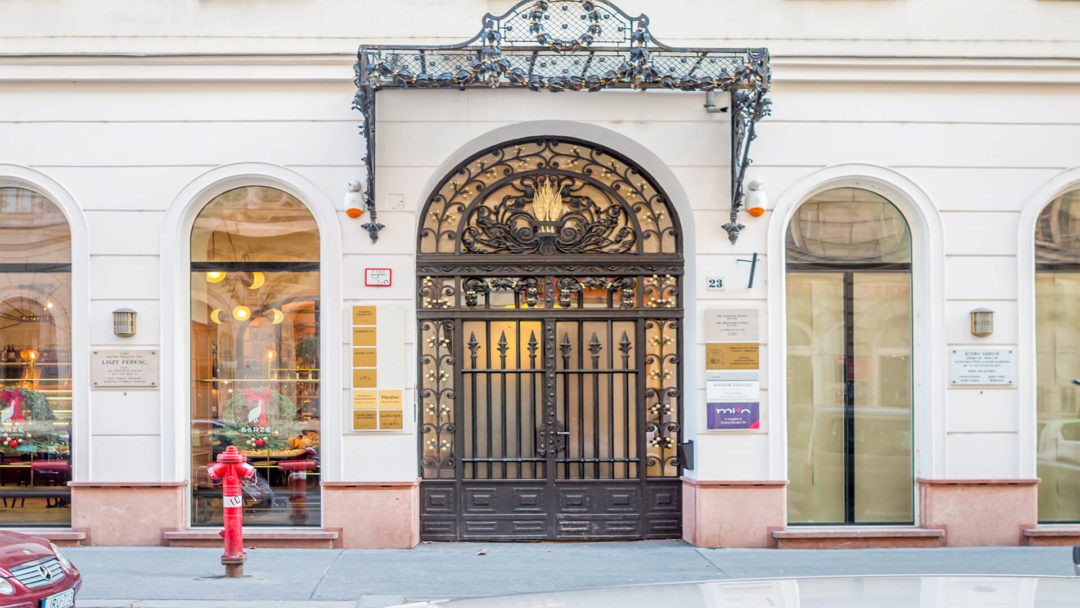 For families, couples and friends
Chain Bridge, Four Seasons Hotel, Interactive fountain
THE NEIGHBORHOOD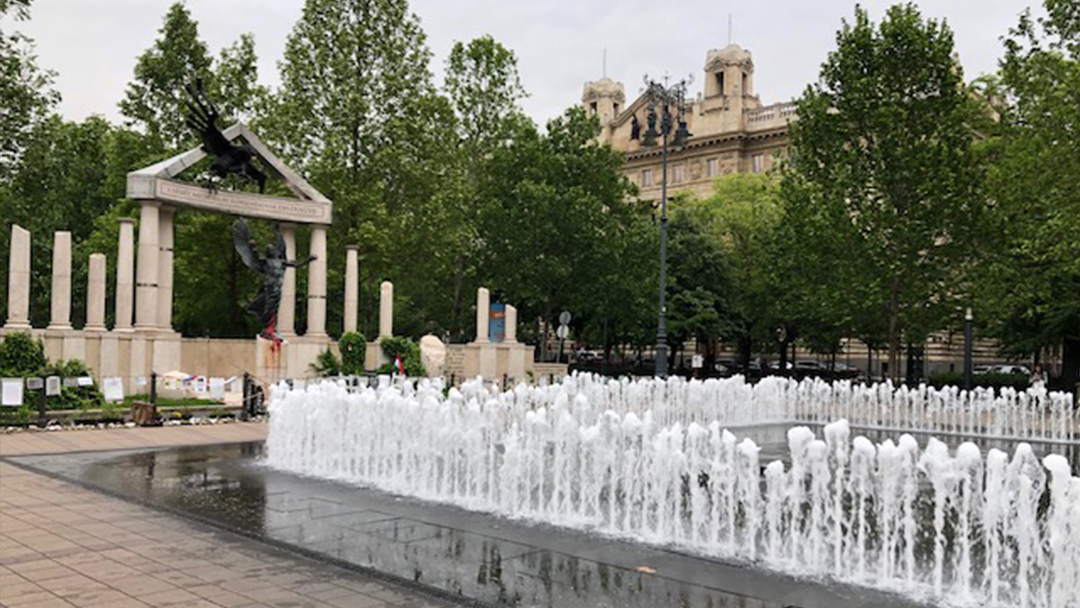 Our apartment is located on Nádor Street, just a few steps away from some of Budapest's main attractions including St. Stephen's Basilica and the Parliament Building. Szabadság Square's interactive fountain is only 400 meters away from our private accommodation. There is a grocery store in front of the apartment, while several bakeries, many restaurants, a breakfast room, a café and a wine bar are also located a few steps away.
IMPOSING BUILDING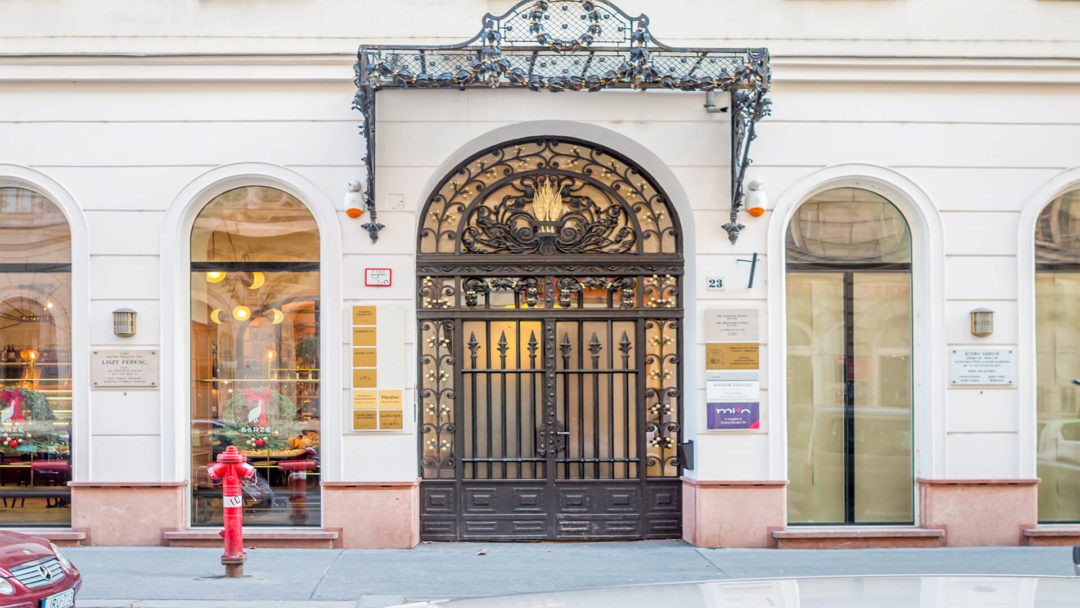 Due to the excellent location of the building, the metro, bus and tram stops are just a few steps away. Tram no. 2, which also stops close to the apartment, is located on one of the most beautiful parts of Budapest, on the Pest quay, providing a wonderful Danube view.
Gabriella was a wonderful hostess who welcomed us like family and kindly organized our transfers to and from the station. The apartment was superb: well located, spacious, spotless and quiet. I highly recommend this accommodation to anyone going to Budapest.

Auwley (AU)

Wonderful apartment in Budapest!
The apartment is situated right in the centre of Budapest, with attractions within easy walking distance and plenty of shops and restaurants nearby. It is spacious, beautifully furnished, well-appointed and very comfortable and we thoroughly enjoyed our time there.

Paul (GB)

We had a very enjoyable stay at NN Apartman in the heart of Budapest.
The location is in the middle of the city, practically you can go everywhere by foot. The apartment is just amazing. And the owner the same! It was an amazing experience! Definitely I will be back here!

Mihaela (RO)

Wonderful stay
HOUSE RULES
Check-in is from 2 pm, check-out is until 10 am. Although smoking is prohibited inside the accommodation, it's allowed outside in the corridor. The cleaning fee is 25 Euros/booking.
Children of all ages are welcome!
Pets are not allowed.
CANCELLATION
If you cancel your reservation 8 or more days prior to arrival, we will reimburse 50% of the reservation fee. For cancellations 7 or fewer days before arrival we are unable to offer reimbursements.
EXTRAS FOR YOUR CONVENIENCE
Not sure what you should see in Budapest?
Feel free to contact us! We'll provide you information on current programs, the best restaurants and typical food upon request.
The following free services are available in our apartment:
Wi-Fi
Refrigerator
Freezer
Air conditioning equipment
Condensing boiler
Hair Dryer
Shampoo
soap
extra towels
washing Machine
Dishwasher
Drying Rack
iron
ironing board
detergent or tablet
ceramic hob
oven
Extra cushion in all sizes
Brochure, map
fully equipped kitchen
Foreign TV channels, adjustable foreign language function
Budapest Travel Guide
Tea and coffee for two different coffee machines are also provided free of charge.
Arranging transfers at an additional cost: from the airport, bus station or train station. We
arrange transfer upon request. Prices vary between 2000 and 10,000 HUF, depending on
destination, number of passengers / used vehicle
Alarm system
Safe / Box
sets of keys
Safe / Box